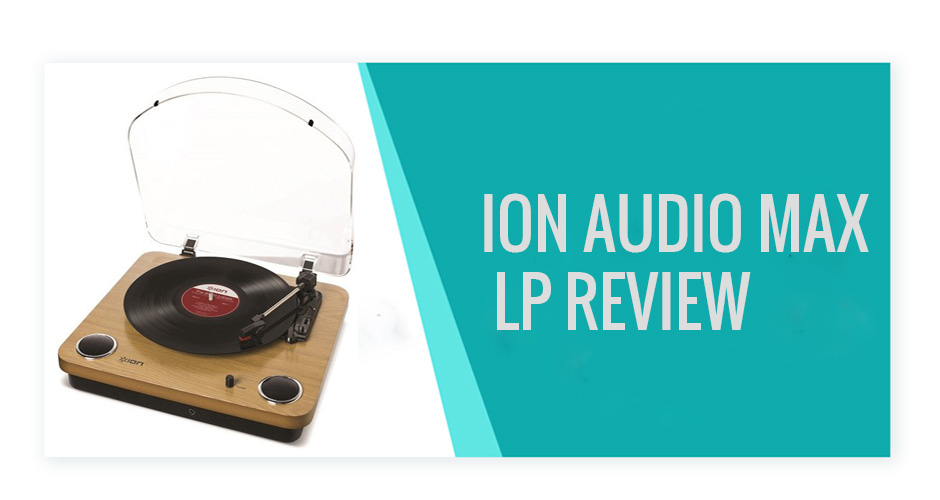 Do you get attracted by the amazing features of the Ion Audio LP turntable? However, there is something that is still confusing you about the decision to buy this equipment or not? If your answer is yes, then you need to check out our Ion Audio MAX LP review where we have provided detailed information about it. This in-depth detail will not only help you in making the right decision but also tell about whether this equipment is worth of your investment or not.
Performance
The most important thing about musical equipment is its performance level. So, we thought about starting our review by talking about how well Ion Audio Max LP performs in reality. It has a very simple setup that allows even a novice to install this turntable without facing any problem. This equipment's sound is better than our expectation and almost all the turntables that came in this price range. However, you can't say that it's good enough to reach an audiophile level. But again, the people who want to play their old collection and listen to some good sound will find it perfect to buy. If you are looking for the one having amazing bass control, then you need to increase your budget. That's why there is no way that you can complain about the sound offered by this product in such a great price range.
The speakers that come in-built with this equipment are of average quality, and that's why you can't use this turntable at a party. However, if you want to listen with a group of friends or even alone in your room, then it is an ideal choice by any means. If you prefer to enjoy the music privately with headphones, then be ready for experiencing a complete change in the sound. While testing its headphone sound for creating this Ion Audio MAX LP review accurately, we found its sound reproduction pretty good and convincing. In simple words, its performance level reached a completely different level.
Design
One of the most important things that you can't miss while buying the turntable is it's over the top design. It is the main reason that the companies have put a special effort towards making their record player better than ever. This LP turntable is not an exception, and that's why you can see it look like the models that come in a very high price range. It packed in a chassis that made from the very high-quality material. There is a dust cover installed on the turntable, but it is better to remove that during the operation. On the other hand, the natural sound produced due to the finish mimics wood grain in the interior. There is no doubt that this turntable model look crafted in a better way than the majority of products that come in this price range.
Overall, we found that this turntable has a retro look where the wood grain finish used for better sound. Also, there is a USB port and two RCA output through which you can make a connection between your turntable and computer.
Features
It has many rich features about which our team has talked in detail below:
It is amazing equipment having the ability to play the recorded records in plenty of playback speeds like 33-1/3, 45, and 78 RPM. There is a 45 RPM record player adapter installed in this turntable for assisting the operation while playing 45 RPM records.
The users can effectively convert their records into a digital format using this software. It can be very handy for individuals who have an old collection of records. This software works on both Windows as well as Mac devices.
Raising or lowering the tonearm level
One of the most brilliant features that you will get in the Ion Audio Max LP is the easier replacement of needles due to the raising or lowering feature of the tonearm lever. It helps the users to take the needles in the needed locations without any harm to the record.
It comes with a 3-belt drive that works as a shock absorber and minimizes the vibration to a greater extent. Furthermore, there is a very little amount of noise created through this motor so that you can enjoy a better sound quality.
It is one of the few turntables in this price range that come with a play and plug USB feature. Having this connection will eliminate the requirement of audio jack for the laptop or computer system. You won't feel any problems in making volume adjustments during the recording process.
What are the pros of Ion Audio Max LP?
It comes with in-built software that allows the users to convert their old collection and cassettes into a digital format. It results in not only saving money but also make the process convenient.
The design of this turntable is quite natural and the addition of wood further elegance to its overall look.
You can effectively play all the standard records of all speeds using this turntable without any delay.
Tons of useful features making it a highly versatile turntable that you can find in this list.
Both the hardware and chassis have a pretty decent quality.
What are the main cons of Ion Audio Max LP?
The built-in speakers are made from pretty average material and produce decent sound. The manufacturer needed to make some improvement in this area in the future models.

Conclusion
After considering all the things in Ion Audio Max LP review, we believe it is an amazing choice for the people who don't want to invest a high amount of money. It has a very conservative design and packed with many useful features that you won't find in turntables that fall in this price range. Overall, it is a solid choice to buy a high-quality turntable in a less budget. Feel free to ask any question about this product in the comment section.